[October 11, 2020]  Sit back, buckle your seatbelt, get ready to ride along on a journey through the past, and visit an old war movie. My hobby, classic war films – you know the ones, before color cinematography and special effects.
One of my personal favs is Gung-Ho!: The Story of Carlson's Makin Island Raiders (1943) starring Robert Mitchum, Randolph Scott, and many famous actors. Famed NY Times film critic Bosley Crowther w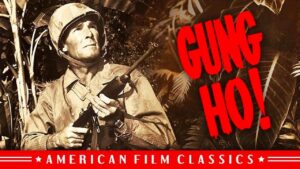 rote that "Gung Ho! Is for folks with strong stomachs and taste for the submachine gun."
The film possesses all the elements of suspense, of sudden and concentrated action, and heroic accomplishment against all the odds. It tells the story of the 2nd Marine Raider Battalion that invades the island using rubber boats.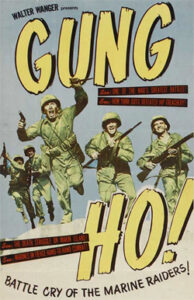 The landing is met by fire from Japanese snipers hiding in palm trees. The Marines dispose of them, attack the Japanese headquarters, wipe out the garrison, destroy installations with explosives, and then board submarines for their return home. This 1942 early-war raid on the Japanese-held island of Makin was a tactical failure and produced little intelligence but boosted spirits of our troops and the people back home got a temporary lift in morale.
I love this film. It has every cliché in the book. Brawling rivals, treacherous Japanese soldiers, Marines throwing knives with deadly accuracy, explosions galore filling the air with flying debris, bayonets, judo, and manically giggling Japanese pilots while they attack the Marines.
The film is a MUST WATCH. You can view the full-length movie, free of charge, on YouTube (at this link, 1 hr 26 min).
This review by Lynn Pitts, U.S. Marine Corps veteran, amateur film critic, and patriotic American.