[December 30, 2020] U.S. Marine Gunny Sergeant Thomas Highway is a highly decorated veteran of two wars; Korea and Vietnam. In Heartbreak Ridge (1986), Gunny Sergeant Highway, played by Clint Eastwood, is on his last assignment when he is given a group of undisciplined recruits to prepare them for a war they don't believe will come their way; the invasion of Grenada which took place in 1983.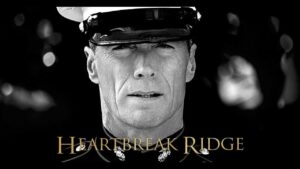 Ultimately, the film centers on Clint Eastwood as he makes this Marine Sergeant come to life. It's the main reason to watch the movie as he whips these new Marines into shape. The movie has a familiar theme; boot camp to battlefield. This movie is classic Eastwood – gravel voiced, tough guy Marine, and with a bit of clashing of egos we expect to see.
Gunny Highway is surrounded by officers with no combat experience who view him as an oddity, even dangerous (which he is), and a Neanderthal knuckle dragger. Highway is thus saddled with military politics as the movie provides us with the struggle to re-establish American military superiority. Some critics claim Heartbreak Ridge is clichéd. And it is. But that doesn't matter. This is an archetypal action-war movie with a subplot of the generation gap between Gunny Highway and his recruits.
Clint Eastwood plays the kick-ass, punch throwing, profane-laced language, stereotypical Marine Gunny that we all love. Heartbreak Ridge is my favorite Eastwood movie. It shows him at his best. The film's technical points are correct; its pacing is excellent and doesn't get bogged down in any aspect from training to war. In addition, it doesn't gloss over any of the necessary steps.
This is another MUST WATCH film. You can see the official trailer here on this YouTube video clip (link here, 2:37 minutes).
This review is by Lynn Pitts, U.S. Marine Corps veteran, amateur film critic, and patriotic American.
—————–
[November 16, 2020] The Great Escape (1963) is one of the all-time best action movies. It tells the story of the biggest attempt by Allied POWs to escape from a German prison camp. The Allied prisoners are a prickly bunch, but they are forced to work together to escape their German captors.
The Great Escape has a star-studded cast: Charles Bronson, David McCallum, James Coburn, James Garner, Richard Attenborough, and of course, Steve McQueen as the star of the film. Directed by John Sturges, the movie takes us through the planning stages of an audacious plan for several hundred prisoners to escape.
The movie plays like a classic heist sequence but in reverse; a breakout instead of a break-in. Based on Paul Brickhill's memoir, it takes place in the meticulously re-created Stalag Luft III, a German maximum-security POW camp designed to house Allied officers with a reputation for escape artistry. The Germans feel confident they have all their rotten eggs in one basket. But in their hubris, they underestimate the collective cunning of this brain trust.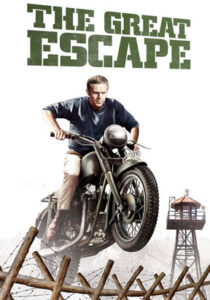 A crack specialist team joins an audacious effort to construct three tunnels (each one 30 feet deep and 300 feet long). In this mostly British effort, the wildcard is Steve McQueen, a rebellious American loner whose escape attempts repeatedly land him in the cooler.
It is a bit of film history now, but Steve McQueen accepted the role of "The Cooler King" on the condition that he could show off his motorcycle skills. McQueen speeding across the German countryside and leaping over the first of two barbed-wire fences leading into neutral Switzerland may be the film's most iconic and enduring image.
This is another MUST WATCH film. You can see the iconic motorcycle chase in this YouTube video clip (link here, 6:43 minutes).
This review is by Lynn Pitts, U.S. Marine Corps veteran, amateur film critic, and patriotic American.
—————–
[October 11, 2020]  Sit back, buckle your seatbelt, get ready to ride along on a journey through the past, and visit an old war movie. My hobby, classic war films – you know the ones, before color cinematography and special effects.
One of my personal favs is Gung-Ho!: The Story of Carlson's Makin Island Raiders (1943) starring Robert Mitchum, Randolph Scott, and many famous actors. Famed NY Times film critic Bosley Crowther w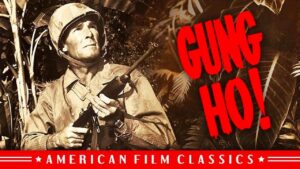 rote that "Gung Ho! Is for folks with strong stomachs and taste for the submachine gun."
The film possesses all the elements of suspense, of sudden and concentrated action, and heroic accomplishment against all the odds. It tells the story of the 2nd Marine Raider Battalion that invades the island using rubber boats.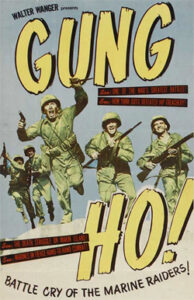 The landing is met by fire from Japanese snipers hiding in palm trees. The Marines dispose of them, attack the Japanese headquarters, wipe out the garrison, destroy installations with explosives, and then board submarines for their return home. This 1942 early-war raid on the Japanese-held island of Makin was a tactical failure and produced little intelligence but boosted spirits of our troops and the people back home got a temporary lift in morale.
I love this film. It has every cliché in the book. Brawling rivals, treacherous Japanese soldiers, Marines throwing knives with deadly accuracy, explosions galore filling the air with flying debris, bayonets, judo, and manically giggling Japanese pilots while they attack the Marines.
The film is a MUST WATCH. You can view the full-length movie, free of charge, on YouTube (at this link, 1 hr 26 min).
This review by Lynn Pitts, U.S. Marine Corps veteran, amateur film critic, and patriotic American.