[May 17, 2014] Some great colored photographs from Life Magazine showing England and France from May through August 1944 (link here). The Allied invasion took place on June 6, 1944 so we gain a little perspective from them … before and after D-Day.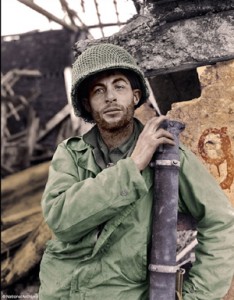 Thanks to reader Cliff for recommending this to me. I'll pick up a copy in my airport travels this weekend.
These 25 photos are poignant in their story of those who came before us, both civilian and military, and shows their story in a small way for us to revere today. Although only commercially available in the mid-1930s, color photography during WWII came into its own element.
While the Life Mag photos are original color photographs, the one pictured to the right here is an original black and white that has been "colorized" – a more common technique as color photography was cumbersome and expensive at the time.
Time Life1 photographs are magnificent to look at from today's modern vantage.
Life Magazine also celebrates the 60th anniversary of the U.S. Supreme Court decision Brown v the Board of Education (May 17, 1954)2. This is one of the key decisions made for the benefit of all and has made a positive influence on all of us by declaring as illegal school segregation based on race.
[Don't forget to "Like" the Leader Maker at our Facebook Page.]
—————————-
[1] http://life.time.com/history/wwii-before-and-after-d-day-color-photos-from-england-and-france-1944/#1
[2] http://life.time.com/history/
Please follow and like us: