[June 7, 2021]  A good friend of mine – a retired USAF officer – has supplied me with several books over the past few months.  He certainly has a way of picking some darn good ones.  An inspiring book on Gen. Curtis LeMay, "Strategies and Tactician," is one I appreciated, for it showed that anyone could achieve the pinnacle of success without privilege or pedigree.  The U.S. Air Force became a reality in 1947 when President Truman signed the National Security Act, creating a new national defense organization.  Since its inception in aviation, the U.S. military grew to appreciate aviation's strategic and tactical importance.  And, it took no time at all for those who flew the skies to become a special hero to those of us who looked up at their gleaming aircraft.  The term Fighter Jock came into play as a stereotype of those pilots who walked with a swagger, got all the pretty girls, and bravely took on the enemy head to head.  Today, the "fighter jock culture" days may be numbered as we move into a century where Artificial Intelligence might pilot all future aircraft.
Fighter Pilot: The Memoirs of Legendary Ace Robin Olds, Christina Olds and Ed Rasimus, 2010.
Robin Olds was the classic fighter jock.  Growing up with his family at air bases and seeing firsthand the most famous fighter aces of World War I, Robin became enamored with flying as a fighter pilot from an early age.  This book rivets us with tales from boyhood to West Point (where Robin would earn his commission) to becoming a double ace in WW2 and finally to Vietnam.  In the press, Robin Olds was a dashing flying hero who married a glamorous movie star.  For those who served with him, he was a great leader.  His daughter Christina and fighter jockey Ed come together and collect the various notes, photographs, articles, and eye-witness accounts to write a good reading effort on one of America's greatest heroes.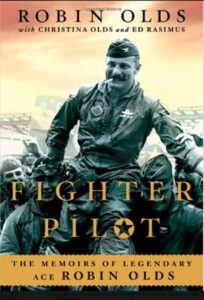 From the book's title, one may expect to read about combat engagements, but it is much more.  We learn about Robin's tremendous sense of loyalty.  When his best friend Scat Davis washed out of flight school because of poor eyesight, Robin would take Scat to combat by naming each of his planes "Scat." We get insights into what was happening in the Army Air Corps and the USAF during war and peace.  We also learn that Robin Olds was the old-fashioned type of leader who cares for his men and leads from the front.  We get to experience what authentic leadership is about, what's right and wrong with the USAF, and what happens in war.  Furthermore, we get a glimpse into the thinking of a colorful officer who did good regardless of what he had to work with.  Leadership is many things, but one that Robin possessed was the ability to look ahead to win the next war.
In a review by David Forsmark, he notes that "Olds was a maverick who was impatient with bureaucracy, especially if it kept him out of the air or got between him and the enemy." Robin never finished his memoirs before his death in 2007.  His daughter and an F-105 pilot did it for him.  Regardless, the book's unique perspective offers a breath of fresh air, and you can hear his voice on every page.
This book is highly recommended.
To go to the complete Professional Reading list, click on this direct link: www.theleadermaker.com/reading-list/
Side Note: Please remember and take a look at Tom Copeland's reading blog.  His website, which I highly recommend, can be found here: https://militaryreadinglists.com/map