[April 1, 2021]  If I were asked to name an event in world history that stood out the most, certainly the Allied Invasion of France on 6 June 1944 would be it.  Hundreds of books and articles are written that give us something important; insight into what freed the world from one form of tyranny.  Understanding the events leading up to the invasion and the intricate and highly complex struggle on that day is impossible for any individual, regardless of their intellect, to comprehend fully.  We can only take small glimpses into what happened on a day that will forever live in our minds as symbolic of what mankind can do, given the leadership and will to make things happen.  By the end of the day, D-Day, 6 June 1944, more than 24,000 Allied parachutists were already on the ground, 13,000 aircraft, nearly 7,000 naval craft, 200,000 vehicles, and 132,000 troops on the beaches, from 15 nations and regions.  The operation was highly choreographed and timed to the minutes with thousands of specific, detailed objectives –all these required months of detailed planning and a logistical effort unparalleled in history.
The First Wave: The D-Day Warriors Who Led the Way to Victory in World War II, Alex Kershaw, 2019.
Alex Kershaw gives us a perspective on the invasion of France, 6 June 1944, that is like a thrilling murder mystery; fast-moving, surprises at every turn, and despite knowing the outcome, we are drawn deeply into the book's narrative.  I read the book in two days.  "The First Wave" is a collection of individual and small unit stories as they fought together across the entire front of Operation Neptune.  Every story is richly told, and Kershaw integrates them into an overview of the fight on that faithful day.  Published on the 75th Anniversary of the invasion, the author aptly conveys, in stirring detail, the bravery and determination of Allied forces.  Kershaw implies that credit for the operation's success goes to the assault forces themselves, and some say that there is no reason to doubt that is the case.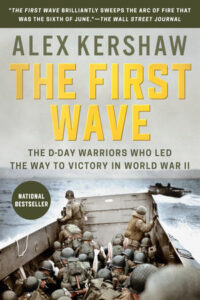 Kershaw's book does not focus on grand or even military strategy.  It is about the dogged foot soldier, the man with a rifle in his hand or aid bag on his hip.  Like any good book on history, The First Wave helps us understand events of that extraordinary day.  No previous knowledge of D-Day is required to read the book.  But it does help put things into perspective.  I like most of this book because Kershaw can put us into the landing crafts and into the gliders that delivered our men into what can only be described as hell on earth.  He tells their stories brilliantly, covering what each endured and within the context of their lives before D-Day.  Of course, the author's information is from stories told by the men who did the fighting.
In a book review by Kirkus, he gives us a thumbs-up analysis of the book.  Kershaw, he writes, is "good at giving a you-are-there account, and it's an eventful story indeed, told from both sides of the fight and featuring characters not often heard from…"  World War II buffs will find this an engaging, unchallenging read.
This book is highly recommended.
To go to the complete Professional Reading list, click on this direct link: www.theleadermaker.com/reading-list/
Side Note: Please remember and take a look at Tom Copeland's reading blog.  His website, which I highly recommend, can be found here: https://militaryreadinglists.com/map