[December 24, 2020]  A few days ago, southern New Jersey missed a major snowstorm that dumped more than a foot of snow in New York City.  Thus begins our Winter.  In combination with our state Governor's new mandates designed to protect us from COVID-19, we spend far less time with friends and family.  Will this be a long, dark winter?  The book I am reviewing today, Edison 64 by Richard Sand, can be read like a long, dark winter.  The book is about Edison High School in North Philadelphia, Pennsylvania, where 64 of its students died in the Vietnam War, the largest number from any school in the United States.  After receiving an autographed copy from the author (thank-you Mr. Sand), I found the book more of a homage to those who served and that it recognizes the honor these men so richly deserve.  Along the way, we get an insider's view of Edison High School, the Philadelphia area's social climate, and the kind of young boys that became men during wartime.
Edison 64: A Tragedy in Vietnam and at Home, Richard Sand, 2019
"We love you, young men of Edison."  Announced daily on the school public address system by Dr. Robert W. Clarke, Principle of Edison High School.  Thus begins this new book about the men from a small community who fought and lived and died during this war.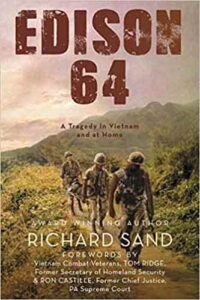 "Most combat soldiers are reluctant to share their experiences unless they are talking with another veterans.  Richard Sand's compassion, empathy, and friendship with twenty Vietnam veterans, and family members of the 64 enabled him to gain their trust so they might share their personal stories." – from the Foreword by the Honorable Tom Ridge
This book is a tribute to those who served in the Vietnam War; whether from their experiences "on the ground," to those who flew over the skies, or plied the oceans nearby.  Author Richard Sand gives us a real, homegrown view of the war.  Starting with the poor economic and high crime conditions of the North Philadelphia area and taking us through the delays at the U.S. Veterans Administration for returning service members, we see for ourselves what these young men had to deal with to survive, or their families dealt with when notified of their death.  They were called horrible names and blamed for "killing babies" and other atrocities.  Our citizens, those in the United States, literally and figuratively spit on these men.  This was, indeed, a dark winter in America.  Mr. Sands gives us the real cost of war through the eyes of those who were there and through the families of those who never returned.
In "Edison 64," Richard Sands re-creates those times of upheaval, disappointment, courage, terror, and heartbreak.  I read this as a disgraceful time in our history, not because of the decision for the U.S. to be part of the war, but because of the way our servicemen and women were treated upon returning home.  This book will capture your imagination and throw you back into those times.  It's not easy.  I was there to witness how our Vietnam veterans were treated.  While Sand's book tells the stories of young men from Edison High School, the school should be remembered as a place where these men grew up, lived as part of their community, and held onto the brotherhood of their town.  Their past is here for us to see.  Sand tells us a consuming tale of the men who fought in Vietnam and of the school that tied them to their brothers.
A book on the Vietnam War you will not want to miss. This book is highly recommended.
To go to the full Professional Reading list, click on this direct link: www.theleadermaker.com/reading-list/
Side Note: Please remember and take a look at Tom Copeland's reading blog.  His website, which I highly recommend, can be found here: https://militaryreadinglists.com/map