[March 30, 2014]  There are many events from the Vietnam War that we all remember; most about heroes, some about leadership, and a few so unique and inspiring that we can never forget them.  In 1966, one involved a captured U.S. serviceman who was on international television answering North Vietnamese interviewer's propaganda questions.  Jeremiah Denton did so while simultaneously blinking, in Morse code, the message T-O-R-T-U-R-E.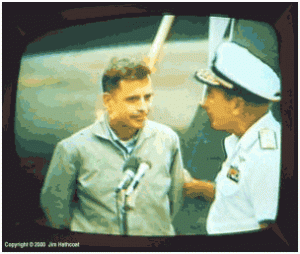 It was a message that confirmed, for the first time, that U.S. prisoners were being tortured in captivity.  He also surprised his captors when he answered questions about his thoughts of our actions in Vietnam.  He said, "I don't know what is going on in the war now because the only sources I have access to are North Vietnam radio, magazine, and newspapers, but whatever the position of my government is, I agree with it, I support it, and I will support it as long as I live."  He served nearly eight years in captivity.
A graduate of the U.S. Naval Academy, pilot, and eventually a Rear Admiral, he retired from the military and became a U.S. Senator.
Jeremiah Denton died this past Friday.  We salute him for his bravery and service to the nation.  In truth, he was a real hero.
[Don't forget to "Like" the Leader Maker at our Facebook Page.]