[August 13, 2015]  Baseball is in full swing across the United States and I enjoy any day that I can go see a contest between two good ball teams.  Sports are an outlet where people of all types can enjoy competition among teams.  The more local a sport the better because that is where the real passion can be felt by spectators.  Bull racing in Indonesia, known as "Mekepung", is where the most brave of men compete on a chariot-like cart and race around the most erratic of local tracks cheered on by many spectators.   Like baseball here, it's a popular sport with a large following.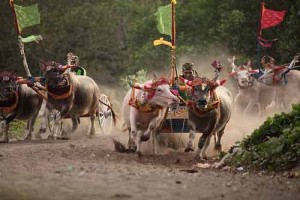 By observing competitive sports it is possible to learn a little about the value system of a society and how the best men stand in their society.  In the case of Bali – a small island in Indonesia –  only the bravest of men enter the contest.  Accidents are frequent and nasty and medical assistance is sparse and not expected.  The winner of the race is held in high esteem for their talent and bravery … and the prestige of the competition likens those men to celebrity status not unlike our professional baseball team members.
Over the years, the race has become a draw for tourists and the government of Bali has begun to regulate the sport.  Locals say that much of the excitement that was once a product of the chaos and danger is fading but that they are still very much fans of the bull races.  A short YouTube video can be found here (see link) and a short article with some fantastic photographs of the events can be found here (see link).  I recommend a quick look at these.
Strength, honor, and bravery are values that have served the men of this island.  They are also businessmen with a keen eye for the best bulls.  Those who finish in the top sell their beasts for higher prices.  The men of Indonesia who compete in Mekepung are to be respected for their upholding their cultural values and their brave exploits.
[Don't forget to "Like" the Leader Maker at our Facebook Page.]
————————-
Please follow and like us: