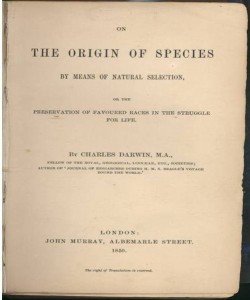 [November 24, 2013]  The Origin of Species was published November 24, 1859, just 154 years ago today.  But its applicability to human organizations and psychology is clear.  Yesterday I wrote about the necessary immense adaptability of senior leaders.  We can learn much from Darwin's writings.  Below I have listed some of my favorite quotes from Darwin. 
"A man who dares to waste one hour of time has not discovered the value of life." 

"In the long history of humankind (and animal kind, too) those who learned to collaborate and improvise most effectively have prevailed." 

"It is always advisable to perceive clearly our ignorance." 

"Ignorance more frequently begets confidence than does knowledge: it is those who know little, and not those who know much, who so positively assert that this or that problem will never be solved by science." 
This one is specifically not a direct quote but a great paraphrase/summary of Darwin's thoughts.  I list it here because it says so much:  It is not the strongest of the species that survives, nor the most intelligent that survives. It is the one that is the most adaptable to change.
————————————– 
On the Origin of Species, published on 24 November 1859, is a work of scientific literature by Charles Darwin which is considered to be the foundation of evolutionary biology. Its full title was On the Origin of Species by Means of Natural Selection, or the Preservation of Favoured Races in the Struggle for Life.