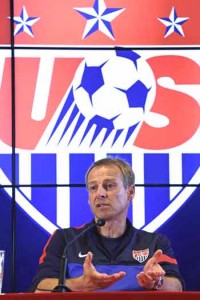 [June 24, 2014] I was visiting military veterans this past weekend at the local Veterans Administration hospital. While there, all the staff could talk about was the World Soccer Cup. The vets were aware, but I could tell most were hardcore baseball fans like me. My insurance agent even got in on the act and was talking about the Mexican goalie. So, is the USA a soccer nation? Is the World Soccer Cup the "tipping point"?
It certainly appears that there is a tremendous interest – as long as the USA team stays competitive. You will recall that the US Soccer coach said, before the games began, that the USA "cannot win this World Cup."1 That is certainly not a winning approach.
Best of luck to the USA soccer team in the World Soccer Cup matches. The next match for team USA is June 26th at 1:00 pm local.
[Don't forget to "Like" the Leader Maker at our Facebook Page.]
————————-
[1] http://www.washingtonpost.com/blogs/early-lead/wp/2014/06/05/u-s-soccer-coach-juergen-klinsmann-we-cannot-win-this-world-cup/
[Note] The Official World Soccer Cup website: http://www.fifa.com/worldcup/index.html
[Note] Most watched soccer game in US history: http://www.breitbart.com/Breitbart-Sports/2014/06/23/U-S-vs-Portugal-Most-Watched-Soccer-Match-in-U-S-History-Rivals-BCS-Title-Game-Viewership