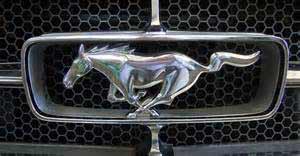 [April 16, 2014]  Yesterday while checking out of my hotel I spotted an old Ford Mustang in the parking lot.  Two older men were getting out of a car.  I told them that it was unusual to see a 1965 Mustang on the road (I owned one as a teenager, so I recognized the distinctive grille features).  Turns out that both these men were WWII veterans from the European theater.
They were headed from California to Corpus Christi, Texas where there is to be a big 50th Anniversary celebration of the 1965 Mustang.  Apparently, they will have a big show on the USS Lexington aircraft carrier and museum1.
The tremendous success of the Mustang established the reputation of Lee Iacocca, the Ford marketing man who had pushed the project against the company's apathy.  The Mustang sold 418,812 units in its first year, far exceeding the 100,000 to 125,000 units projected by Ford's financial wizards.
[Don't forget to "Like" the Leader Maker at our Facebook Page.]
—————————-
[1]  Lexington Museum website: http://usslexington.com/about-the-uss-lexington/the-museum/