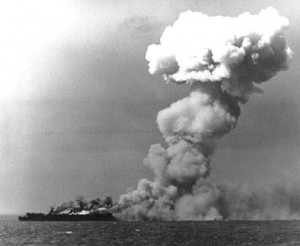 [October 23, 2013]  The Battle of Leyte Gulf, formerly known as the Second Battle of the Philippine Sea, is generally considered to be the largest naval battle of WWII and, by some criteria, possibly the largest naval battle in history.
Today I'm honoring those who fought so valiantly in this most important naval battle.
Also, happy belated birthday to the U.S. Navy, having been established on October 13, 1775 by an act of the Continental Congress.
———————
The feature image photograph is "The Battle Line" from Life Magazine
The photograph on this page is of the light aircraft carrier Princeton on fire, east of Luzon, 24 October 1944.
For the best book available is by Thomas J. Cutler. The Battle of Leyte Gulf: 23-26 October 1944, Naval Institute Press, Annapolis MD, 1994.
There are some good, but not great "Battles for Leyte Gulf" websites available for viewing.
Here are two with good information:
The first is the U.S. Department of Defense (some good links at the bottom of the main page):
http://www.defense.gov/home/features/Leyte/
Probably the best website on the battle is privately maintained by Mr. Ken Friedman:
http://battle-of-leyte-gulf.com/