[November 18, 2018]  There are many photographs from World War II that tell a story if you look at them and understand a little about the war.  Below is one of my favorites.  It shows British soldier Horace Greasley looking through a barbed-wire defense at Nazi Heinrich Himmler1 (wearing spectacles).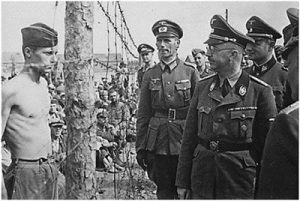 Horace Greasley was a Prisoner of War in a prisoner camp and became famous for escaping over 200 times to visit his girlfriend; a local Jewish girl.  Why did he keep going back?  Loyalty.  He returned every time with extra food or other contraband to share with his fellow captives.  Greasley spent five years as a prisoner of war, during which time he served as a camp barber and worked in the marble quarries.
Greasley's regiment landed in Normandy before the U.S. entered the war.  This invasion of the European mainland failed and it sent the allies reeling back to the coastline.  His unit was ordered to cover the retreat to Dunkirk where most were rescued.  Greasley and his unit were captured.
His ten-week trip to Holland was on foot by forced march in the winter and to Lamsdorf, Poland via train car was there was little food or water.  At Stalag VIIB 344, Greasley met Rosa Rauchbach; the daughter of a local worker.  Besides bringing in food from his "escapes" he also brought back radio parts so that his comrades could listen to news on the BBC. This did a lot to boost morale among the men.
British soldier Horace Greasley is a real hero.  He deserves our respect.2
——————-
The photograph is disputed but generally accepted as showing Horace Greasley.
In 2008, his biography, "Do the Birds Still Sing in Hell?" was published. Two years after its release, he died at age 91.
Please follow and like us: