[February 21, 2014]  Paik, Sun Yup (백선엽) is a leader and true hero in all senses of the word.  The Korean War is known in America as the "forgotten war" because most simply do not know about it.  Sadly this is also true across the western world, not just in the United States. 
There are many leadership lessons from the war – some I will address in future blogs.  General (retired) Paik, Sun Yup who is alive and well at 93 years of age, was willing to tell me about it.  I visited him a few days ago in his office in the Korean War National Museum.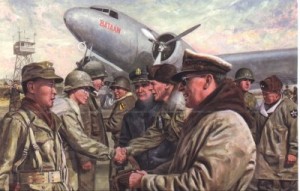 We had tea and spoke about the war and his keen memory of the events that unfolded between 1950 and 1953.  At the visit he was very gracious: he meets many visitors who come to see him.  He quickly pointed to a painting on the wall near me.  It's called "We Go Together" by Don Stivers and shows General Douglas MacArthur, Lt. Gen. Ridgeway, Maj Gen. Chung Il Kwon, and Brig. Gen. Paik Sun Yup. 
I asked him what he considered the most important lessons in generalship in war.  He was not hesitant in saying that the war was a fight for freedom from Communism which was and is a "very bad government."  Of course, he was quick to say that "freedom is not free."
Beginning the war, Colonel Paik was a Division Commander and finished the war as the Republic of Korea's (ROK) first four-star general and the Army's Chief of Staff.  When the North Korean army invaded on June 25, 1950, the ROK military was under-equipped, under-trained, and under-manned.  Colonel Paik's division initially held fast but was push southward. 
Over the next three years, General Paik was the stone in the river for the ROK government.  His English speaking ability, although limited, allowed him to gain favor among the U.S. military because he was able to clearly explain ROK needs and concerns. 
General Paik says that the main lessons in generalship and being a successful senior leader are that one must know the troops, their abilities, and care for them.  Truly a great patriot and great man.  It was an honor to meet him and have tea.  I still have his business card. 
————————— 
The photograph as the feature image is one of the most well known of General Paik during the war.
For more information on General Paik: http://en.wikipedia.org/wiki/Paik_Sun-yup
The Korean War National Museum: http://www.kwnm.org/
The Korean War at History.com: http://www.history.com/topics/korean-war
The Korean War at Encyclopedia.com: http://www.encyclopedia.com/topic/Korean_War.aspx#1