[November 7, 2020]  Have you ever lead a project or activity in your school, college, or workstation?  If yes, then there might be something you have regrets about—things you wished you would have done better.
The results might have been better if things were lead differently. But the truth is, you did whatever you could do best at that time.
And if there was room for improvement, then instead of regrets, learn from that experience, remember it for the next time.
Do remember, leadership character is developed through suffering.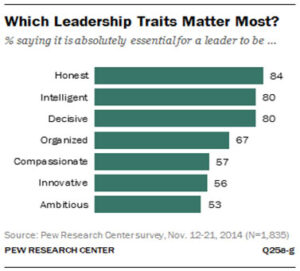 ** Chart Source: Pew Research Center, January 14, 2015
Acknowledge Your Mistakes Or Regrets
Being a good leader means having specific leadership characteristics. The most important thing that a leader has is accepting mistakes, owns them but, never lets those mistakes get the better of them.
Personal Development For Overcoming Qualms
Good, instead great leaders see personal growth as an investment. These great leaders overcome their shortcomings through competence in improving conferences, seminars, networks, resources, and coaches.
Accepting Your Faults
Mistakes are part of everyone's life. But to face your mistakes and to accept them is what a great leader does.
Never give excuses for what happened wrong. It's a famous saying that you can either make excuses or make progress, but you can't make both.
Apologizing
Once you have started taking responsibility for your mistakes, it's time to apologize.
Saying sorry won't belittle you in front of your team. Instead, people who accept their mistakes and apologize are admirable as they want to amend what they did wrong.
Be Free From Guilt
You cannot live with guilt and regret. When you accept your mistakes and then apologize for them, learn to forgive yourself and feel free.
A tired mind with regrets can never think positively and for the betterment of others.
Look Forward
A leader is responsible for the careers whole team. If you are given a responsibility, then you must own it and fulfill it. Do not overthink about your past. Let it go and move on with a free heart and a peaceful mind.
Learn From Your Experience
When someone says to let go of the past and move on, this doesn't mean to forget your mistakes completely.
On the contrary, learn from your mistakes, do not take them with you when you move forward. Criticize yourself but in a constructive way rather than indulging in self-destructive thoughts.
Be Grateful
Be grateful every time you learn something from your mistakes. Learn to be positive and be better in life.
According to research conducted by Ace Assignment, being polite and happy helps you feel better even after you have done mistakes.
Conclusion
Always be thankful for your mistakes. They let you learn how to move forward in life with a better approach. The best quality a leader has is to be able to use any previous experience as a learning opportunity. Don't live with your mistakes, instead use them as a tool in whatever you are planning to do next, in a better way.