[August 27, 2019]  One of the easiest ways to learn how to be a better leader is to study how 'not' to be a leader.  Great leaders are those who bring people together for a good cause and unite, uplift, and focus our lives.  U.S. presidential candidate Elizabeth Warren of Massachusetts shows us how not to do this with her recent claim that white police officers "murdered" an unarmed black man named Michael Brown.  This is simple moral cowardice.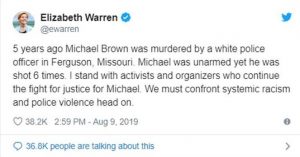 I'm not sure of her reasoning, but it appears her primary motivation is pandering for votes.  The technique is the disparaging of law enforcement.  I bring this to the attention of readers because what she wrote about the Michael Brown incident is not just cowardice but it is also wrong.  There can be no excuse for Warren's lie.  The lie is not harmless, it's not unintentional, and it's not simple pandering; it has an effect that could be tragic.1  The Massachusetts Chiefs of Police Association took notice and sent a warning to Warren.
"Your reckless tweet will only serve to create hatred towards Police Officers and place them in danger of more assaults and perhaps death." – Hamilton Police Chief Russell Stevens, president of the Massachusetts Chiefs of Police Association
If this act of moral cowardice were atypical of her, I would not have highlighted the incident of her behavior.  Sadly, she has made several other claims that are ridiculous.  For example, she spends her time on the campaign trail denigrating the United States, "white male privilege," and anyone who does not agree with her.
Putting aside her ancestry – she has no American Indian blood despite earlier claims – she has used whatever victim status has suited her best for any particular job.  These are not the traits of a great leader or one of particular inspiration.  True leaders tell the truth, even when it is inconvenient.  I wrote about this in an earlier article (see link here).
I also label her behavior moral cowardice because she has no desire to understand and explain to the public what happened in the Michael Brown incident.  She also has no concern about the consequences of her "fact-free" and inflammatory rhetoric.  Her reasoning is to obtain votes but does so at the cost of social divisiveness and increasing risks to the lives of police officers.
—————