[April 28, 2021]  I live in the state with the highest COVID infection rates and the nation's highest death rates, second to none.  New York and Michigan states garner the most media attention for high death rates, but they have a rival in New Jersey Governor Murphy.
Yesterday I was sitting in my chiropractor's office waiting for a minor adjustment.  All was routine until I saw our local newspaper with an above-the-fold headline, "Murphy to allow dancing at proms and weddings."1  The online version has a much more cautious headline.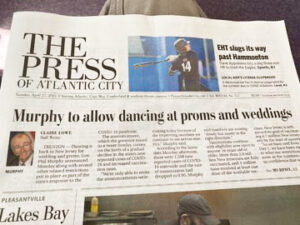 We have some of the most intense lockdowns, detailed restrictions on socializing, and heavy-handed enforcement.  Governor Murphy continues to cling to the temporary emergency powers he exercised under state law to control the "dials" of our lives.  It is a long way to temporary  However, the emergency is not more.  His arrogance should come to an end.
The arrogance of Governor Murphy's decree now allows the hapless citizens of our state to dance.  Gee, who would have thought that dancing was so dangerous.  I use the term arrogance carefully and precisely.2  I know about arrogance in leaders who think they know more than the rest of us.
Several times I've written on my military experience with arrogant leaders.  One, in particular, was about my first Company Commander, who was a weak leader: ignorant, divisive, and arrogant.  I was embarrassed to be in his command.  So too, I'm embarrassed to be a citizen of New Jersey for the same reason.
Many New Jersians are content to let the "experts" determine their fate.  They even drive their cars and go for walks wearing their masks.  I just shake my head when I see them.  Being a sheep is not very hard.  Just follow jolly-fellow, grandpa Murphy; he knows what's good for us.  Just ask him.
Restrictive rules are in place in states with the highest rates of infections and deaths.  I'm no medical expert, but that alone tells me the political policies of Governor Murphy and other similar state governors are not working.
Maybe Governor Murphy will allow us to camp out in the woods sometime in the future.  So far, he is not lifting that restriction.  Heaven forbid that I remove my mask in my campsite, around the campfire when no one is looking.
————–
https://pressofatlanticcity.com/news/state-and-regional/dancing-to-resume-at-proms-and-weddings-as-murphy-relaxes-several-covid-19-restrictions/article_d33f84a9-7241-55bf-b38a-411741ea3d95.html
Arrogance is the individual trait of personal superiority in rank, power, dignity, or estimation. It is to consider one's own worth or importance to an undue degree, pride with contempt of others; presumptuous.