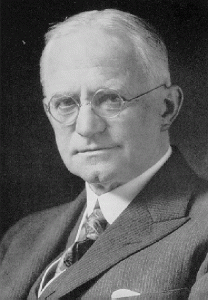 [September 29, 2013]  He was a high school dropout, judged "not especially gifted" when measured against the academic standards of the day.  He was poor, but even as a young man, he took it upon himself to support his widowed mother and two sisters, one of whom was severely handicapped.
But building a multinational corporation and emerging as one of the nation's most important industrialists required dedication and sacrifice.
George Eastman changed the world through his entrepreneurial spirit, bold leadership, and extraordinary vision.  He is remembered for founding the Eastman Kodak Company and revolutionizing the photography, film, and motion picture industries.
From the company's founding by George Eastman in 1889, Kodak followed the razor and blades strategy of selling inexpensive cameras and making large margins from consumables — film, chemicals and paper.
Beyond his inventive genius, Eastman blended human and democratic qualities, with remarkable foresight, into the building of his business.
Eastman is credited for is running a tight ship. He focused on efficiency and reducing waste at all costs, two things which helped push his company forward.  Eastman made sure his factories had the exact amount of emulsion they needed at the exact time they needed them.
He believed employees should have more than just good wages – a way of thinking that was far ahead of management people of his era. He was ahead of his time in extending significant benefits to his workers and he believed that employees deserved much more from their jobs than just their wages.
Eastman was convinced that it was good for the company by motivating his workers and building a sense of loyalty. Indeed, he regarded workers' goodwill as being a far more important factor in a company's success than any of its innovations or patents.
George Eastman might have been a tough boss who liked to curse, but he knew what it was to be a leader.  It was not just about being strict with keeping people in line.  It was also about fostering a sense of democracy and pride within his company, two things that would keep his staff happy and hard at work.