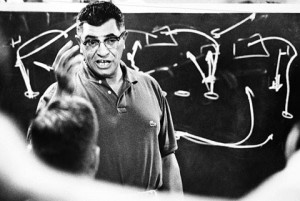 [October 14, 2013]  Choosing a famous leader for these profiles has been relatively easy.  The Vince Lombardi selection today was not only easy, he is the person I quote most on leadership and have the most affinity toward.
"Leaders are made, they are not born.  They are made by hard effort, which is the price which all of us must pay to achieve any goal that is worthwhile."    – Vince Lombardi
Vince Lombardi was born in Brooklyn, New York, in 1913.  As head coach and general manager of the Green Bay Packers, Lombardi led the team to three NFL championships and to victories in Super Bowls I and II (1967 and 1968).  Because of his success, he became a national symbol of single-minded determination to win.1
There are many characteristics of Vince Lombardi's leadership style but we can compress them into three areas:
Life is about winning – the will and the attitude
Hard work, sacrifice, discipline, and habit
Teamwork
"The difference between a successful person and others is not a lack of strength, not a lack of knowledge, but rather in a lack of will."    – Vince Lombardi

"Winning is not a sometime thing…it's an all the time thing.  You don't win once in a while…you don't do the right thing once in a while…you do them right all the time.  Winning is a habit."    – Vince Lombardi
In David Maraniss' 1999 biography2 on Vince Lombardi he writes on the portrait of a true legend.  He says that Lombardi was seen as a complex, driven man who used his unconquerable will, ambition, and brilliance to earn him the love from those who played for him on the football field.
Vince Lombardi's leadership style is not that different than those covered in this blog.  What stands out most however is his determination to win and he used everything possible to "play by the rules" but win.
He noted that that winning on the football field required special characteristics that apply to any team, corporation, or society. 
—————————– 
[1] The Biography Channel Website. http://www.biography.com/people/vince-lombardi-9385362
[2] David Maraniss.  When Pride Still Mattered: A Life of Vince Lombardi, Simon & Schuster, New York. 1999.