[June 27, 2020]  World War II produced photographs that still capture our attention.  One of the most famous is the iconic photo by Joe Rosenthal of U.S. Marines raising the Star and Stripes over Mt. Suribachi on Iwo Jima, February 23, 1945.1  What is lesser known for Americans is the story behind another famous photo; this one of Red Army soldiers raising the Soviet Flag over the German Reichstag in May 1945 and Soviet propaganda.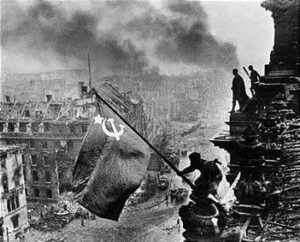 Yevgeny Khaldei (Евгений Халдей) was a Soviet Red Army naval officer and photographer.  He is best known for this WWII photo.  It was reprinted in thousands of publications and is one of the most significant and recognizable images of the war.  It became a symbol of the Soviet victory over Nazi Germany.
But there is controversy surrounding the photograph that tells us something about the culture of the Soviet Union.  The German Reichstag was the heart of Nazi Germany.  Arguably it was the most symbolic WWII target in Berlin.  Khaldei climbed the building on May 2, carrying the flag sewn from three tablecloths for this very purpose, by his uncle.  The official government story was that two Red Army soldiers scaled the building and planted the flag.
The actual story, according to Khaldei, differs.  The photo was altered in four ways.  First, the picture was staged.  Second, the soldier raising the flag appears to be wearing two wristwatches and could imply he had looted one of them, an action punishable by execution.  Using a needle, Khaldei removed one of the watches.  Third, Khaldei added more smoke to the background, copying it from another picture to make the scene more dramatic.  And fourth, Khaldei added more contrast to make the scene appear more dramatic.
Unlike Rosenthal's photo on Mt. Suribachi, it is neither staged nor altered.  While both pictures were significant propaganda events, it shows that the Soviet leadership of WWII was very image-conscious.  Their leaders pushed their troops hard to capture Berlin, so much so that needless casualties occurred and atrocities committed.
The photo helps convey the message of Soviet endurance, pride, and bravery in their victory of their fascist invaders.  It was a hard-fought and bloody war.  The photo also unintentionally captures and conceals a story of vengeance, mutual brutality, murder, organized destruction, and pillaging.
In no way does this diminish the bravery of Soviet soldiers who destroyed the core of Hitler's Nazi Germany, but it does leave a tarnish to this day.
—————–
You can see the photo at Pulitzer Prize-Winning Photographer David Hume Kennerly's website: https://kennerly.com/blog/iwo-jima-photo-taken-70-years-ago-today/