[May 10, 2014] On this date in 1869, the nation was joined symbolically and literally by connecting the first Transcontinental Railroad across the United States. A ceremonial "golden spike" was driven to join the rails at Promontory Summit, Utah Territory. The vision of financier David Hewes1 is credited for the idea.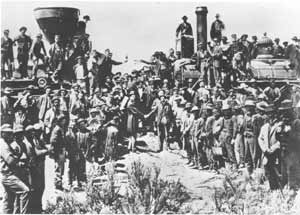 The "joining of a nation" is an example of senior leadership in action; doing something great for the nation, something that benefited the peoples of the U.S. on both coasts and brought us closer together.
Many people at that time harshly criticized the effort and many still do today. This criticism has some merit, but no one can argue that the benefits of this effort and the coming together of the nation was not worth the work involved.
Today we offer respect to the leadership and vision of David Hewes, the railroads, and the many workers who made it happen.
[Don't forget to "Like" the Leader Maker at our Facebook Page.]
——————————-
[1] http://www.nps.gov/gosp/index.htm
On May 10, in anticipation of the ceremony, Union Pacific No. 119 and Central Pacific No. 60 (better known as the Jupiter) steam locomotives were drawn up face-to-face on Promontory Summit. These are the railroad engines shown in the iconic photograph shown here.