[May 22, 2014] They always seem to hit at the most inopportune time. For regular readers of theLeaderMaker.com you saw my site go off-line for about 2 hours this afternoon. My apologies for any inconveniences experienced.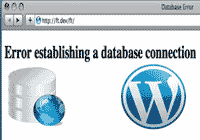 This is the first time in since I began my site late last year. Not a bad record actually. Of course, it was something that I did by upgrading a WordPress "plug-in."1 Looks like I got an "error establishing a database connection."
I know this is all boring technical stuff, but it's the kind of thing that makes running a blog just that much more interesting !!
[Don't forget to "Like" the Leader Maker at our Facebook Page.]
—————————-
[1] In computing, a plug-in (or plugin, extension, or add-on / addon) is a software component that adds a specific feature to an existing software application. When an application supports plug-ins, it enables customization. The common examples are the plug-ins used in web browsers to add new features such as search-engines, virus scanners, or the ability to utilize a new file type such as a new video format.