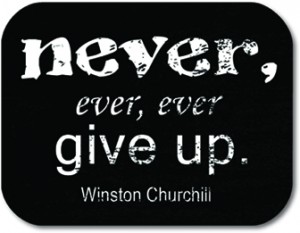 [Updated December 28, 2013] Great leaders have extraordinary persistence.  Yes, possession of large doses of persistence is a prerequisite for great senior executive leaders.
The dictionary defines persistence as, "Firm or obstinate continuance in a course of action in spite of difficulty or opposition."  In other words, do not expect persistence to be easy.  In fact, it's hard.
For senior leaders in the upper reaches of the success ladder – technical competence, talent, intelligence, and leadership ability – are assumed traits.  However, the characteristic that is missing for sustained achievement is persistence.
"Nothing in this world can take the place of persistence.  Talent will not; nothing is more common than unsuccessful people with talent.  Genius will not; unrewarded genius is almost a proverb.  Education will not; the world is full of educated derelicts.  Persistence and determination alone are omnipotent.  The slogan "press on" has solved and always will solve the problems of the human race."  – President Calvin Coolidge
In order to achieve complicated or difficult goals, persistence is the most significant factor.  There are lessons from successful, persistent leaders who have overcome enormous obstacles.  Here are some of them of the lessons:
Be Consistent:  Treat employees by the same rules.
Be Reliable: Be there, be seen, be consistent in the results delivered
Complete the Task:  Finishing the job requires the ability to overcome obstacles and to stick to one's goals
Never give up: Keep at it despite the obstacles, despite the odds
Simple, right?  Yes.  Simple to say, but very hard to do.  That is so because extraordinary persistence must be a habit, otherwise it will not work for the leader.
Remember the book, "The Little Engine That Could"?1  The message is simple, if you keep trying, you will succeed – part of this is attitude but also habit, optimism, and hard work.
As we hear experienced leaders say … failure is simply a temporary impediment.
——————————-
[1] The Little Engine that Could is an illustrated children's book that was first published in the United States of America in 1930 by Watty Piper with Platt & Munk Publishers. The story is used to teach children the value of persistence, optimism, and hard work.  Based on a 2007 online poll, the National Education Association named the book one of its "Teachers' Top 100 Books for Children."