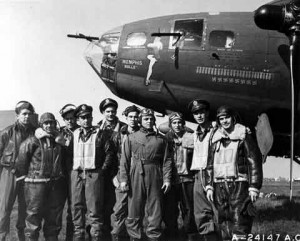 [October 18, 2013]  The photograph is of the crew of the Boeing B-17 "The Memphis Belle."  During WWII, lead by Captain Robert Morgan, the crew flew 29 missions altogether, 25 in this aircraft.  I was fortunate to meet retired Colonel Robert Morgan nearly two decades ago and to hear of the exploits of his crew and the combat leadership he displayed.
In combat, the fundamentals of leadership remain the same – building trust and confidence, taking responsibility, having the right values (integrity being the most important), showing commitment and passion for those who work for you, etc.
There are however, some exceptional differences of emphasis and results.  For example, there is the emphasis of caring for your troops before your own care.  Another difference is that the result of failure in battle can be devastating.
Combat-proven senior leadership1 differs because it is more people focused, dangerous, intense, and requires a higher level of personal interaction for it to be successful.  Between 2004 and 2011, I spent three years in combat.  I am privileged to have served with some truly great people – their friendships forged in battle will last a lifetime.
I was also witness to a diverse group of senior leaders from all military services and many coalition countries; their style, strengths, challenges, and successes and failures.  This gave me some insights into combat-proven senior leadership.
Whether quiet and introverted or loud and boisterous, those senior combat leaders universally shared a laser focus on ensuring the best for their troops and emphasis on mission accomplishment.
What I discovered was that the successful senior combat leader must be willing to personally share in the stress, danger, and emotional effects of battle.  That leader must understand the impact of combat on the troops and their units.  In addition, the senior leader must be capable of making timely decisions with the knowledge that the information they base their decisions on may be faulty and incomplete, yet lives rest in the balance.
Senior combat leaders must also be good at what they do and the troops must absolutely know that they are following a leader who can be successful.  People don't follow leaders because they are good bureaucrats, but because they are winners and they make things happen.
Senior combat leaders must lead from the front.  There may be other organizations that "leading from behind" works well, but not in combat.  Troops will immediately notice this leadership style and shun it accordingly.  Senior combat leaders lead from the front where the action is taking place.  They are able to recognize a problem before it becomes a disaster.
Combat leaders lead by influencing, not by edict.  This is contrary to the military stereotype.  The most successful leaders are those that know their stuff, take care of their troops, motivate them to mission accomplishment, and can survive in the brutish world of battle.
————————————–
[1] Author William A. Cohen in his recent 2010 book Heroic Leadership: Leading with Integrity and Honor calls this "Heroic Leadership."  This is an excellent read on combat leadership.