[June 30, 2014] Leaders know that communication is one of the most important senior leadership characteristics one can possess. Great leaders, personally, have vast communication talents. Yet, they also have the ability to ensure their message is pushed throughout the organization, without unnecessary distortion. The best leaders also go to great lengths to avoid sending mixed signals.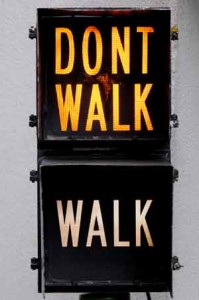 Nothing is worse than confusing messages. The most common, yet complex and expensive, education we can get is on top-of-the-line methods of communication. To be an effective communicator and avoid mixed signals, a leader must have five things: people skills (external), passion (internal), credibility, clarity, and listening ability. These components of communications were discussed here in a three part series (links here, here, & here).
A senior Congressional member last week visited the Texas border to get a look at the waves of illegal immigration.1 On the topic of immigration, the U.S. President admitted that the message from the United States was mixed and needed clarification. He said that the waves of illegal immigrants will not be allowed to stay. Yet, the Congresswoman's visit and her words contradict the President.
So, how do leaders avoid mixed signals?
Establish a personal connection with stakeholders
 Avoid information overload
 Simplify the message for general consumption
Engage organizational leaders and other messengers early
Be a visible leader and repeat message often
Leaders must work hard to avoid giving mixed signals either by themselves or from other key individuals in their organization. Fast and aggressive action is sometimes necessary to overcome inadvertent mixed signals.
[Don't forget to "Like" the Leader Maker at our Facebook Page.]
————————-
[1] http://www.latimes.com/nation/nationnow/la-na-nn-pelosi-border-facilities-20140628-story.html