[July 20, 2014] The best way for senior leaders to learn about what is really happening in their organization is to, simply, walk around and talk to people. That may appear to be uninspiring and lack originality, but it works … and it works well. In conversations with the most senior CEOs and military flag officers, one of their most valuable techniques of gathering useful information is to ask a few basic questions and let people talk.  Good habits makes for great leaders and this one is key for success.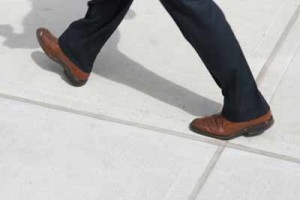 This habit does two immediate things. First, it allows people to see the senior leader. Being there for people is important for senior leaders. It shows they are human and accessible. This invariably avoids problems associated with miscommunication. Second, the senior leader is in a position to hear issues that concern employees. This gives credibility to the leader and ensures key organizational messages are getting to everyone.
First-rate listening skills compliment this good habit. The senior leader by now should possess the appropriate listening skills. This means having the ability to ask the right questions and listen … listen for what is said and for what is not said.
To walk around and talk with people, however, is done best with a plan. The first and most obvious plan is to listen and gather information – as already noted. The second is to talk with people about any key issues and messages of the organization and to make certain they understand the finer points. A related part of the plan also gives feedback to the senior leader on how well other leaders are communicating.
Tomorrow, the next "good habits" will be to read mission-related material.
[Don't forget to "Like" the Leader Maker at our Facebook Page.]
————————-
[Note] A direct link to Good habits #1 Never Assume Anything: https://www.theleadermaker.com/good-habits-1-never-assume-anything/