[June 29, 2021]  Some of us remember the "Iranian Hostage Crisis" in 1979, where 52 American diplomats and citizens were held hostage after Iranian militants took over the U.S. Embassy in Tehran for 444 days.  In 1979, poor American leadership was an invitation to rogue actors to hit against the interests of the U.S.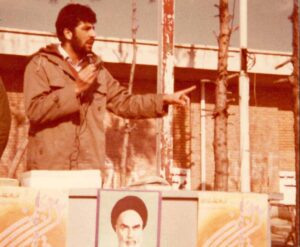 American leadership at the time was weak.  Under U.S. President Jimmy Carter, the nation was in a general malaise (see my take on his "malaise speech" here).  It was July 15, 1979, that Carter gave, what others call, his greatest speech.  The New York Times said the speech "struck a chord" and was on-target, giving the President a lift in his confidence rating by citizens.  I remember the speech well.  I also remember thinking, "we're screwed."
Less than four months later, on November 4, 1979, Ebrahim Raisi led students belonging to the Muslim Student Followers of the Imam's Line in the embassy takeover.  An anti-American media described the violation of international standards and human rights as an "entanglement."  America projected weakness, and Iran took advantage.
Today, Raisi is a cleric known as an international criminal for participating in the largest massacre and genocide after World War II, the massacre of 30,000 political prisoners in 1988.  He was part of the Delegation of Death.1  The delegation was commissioned by Ali Khamenei, the supreme leader of the Iranian regime, to "clarify the situation of those political prisoners who did not change their opinions against the clerical dictatorship."2
For additional information about Ebrahim Raisi, you can read comments from Dominic Green.  At the request of our friends at PowerLineBog, Spectator has made his column accessible for the time being.  His article opens this way:
The president is a placeholder for the people who really run the country. The elections were rigged. And most of the American media cheers along.  No, not the United States: Iran. The peace-loving, centrifuge-spinning, flag-burning regime has a new president, Ebrahim Raisi. The Biden administration did promise us a new era in US-Iranian relations, and here it is: Raisi will be the first Iranian president to take office while under sanctions for mass murder.
Amnesty International  has called for Raisi's prosecution for "crimes against humanity."  The big problem for the United States is that we are again showing weakness in the face of evil.  When that happens, bad things are just around the corner.  This is a universal hard-learned lesson that American politicians seem unable to learn.  President Biden would do well to reject Raisi, but that will not happen, confirming that the U.S. postures but is incalculably weak.
————-
https://www.theguardian.com/world/2021/jun/19/irans-president-elect-ebrahim-raisi-is-hardliner-linked-with-mass-executions