[July 17, 2014] Can leaders learn from reality television? Earlier this year I proposed that, yes, we can learn from television and from movies … but there are some serious limitations of course. One reality show called "Say Yes to the Dress" is what the name implies. Women are looking for a unique dress to wear on a special occasion; in this case, to their wedding.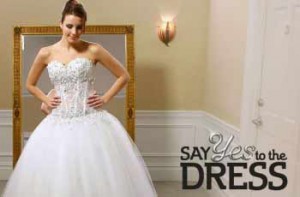 This TLC show airs usually on Thursdays from 5pm until midnight Eastern Time. It follows events happening at Kleinfeld Bridal in Manhattan, NY. Women are looking for the perfect dress for that special day. On a side note my wife selected her wedding dress from the store and has visited them – she claims it is one of the best stores for selecting wedding dresses. There is now a spin-off show called "Say Yes to the Dress – Atlanta." Whoa, so where's the leadership lessons?
Leadership means understanding the psychology of people and providing good customer service. This is what both these stores provide. Themes include: conflicting advice from friends and family, staying on budget, personal image and body weight, and of course selecting the perfect dress. The sales associates must work to balance all these demands while making the sale. Customer service is valued highly.
We only get a peep about what goes on in the stores but it is clear that the shows are about leadership, overcoming obstacles, and the value of friends and family.
[Don't forget to "Like" the Leader Maker at our Facebook Page.]
————————–
http://www.kleinfeldbridal.com/index.cfm?pid=Say-Yes-To-The-Dress
http://www.tlc.com/tv-shows/say-yes-to-the-dress