[February 27, 2022]  The invasion of Ukraine by Russia has not gone well.  The reason is simple: courage on the part of the Ukrainian people.  Ordinary soldiers and citizens are fighting the Russian juggernaut with unexpected tenacity.  This is a genuine David and Goliath story unfolding right before our eyes.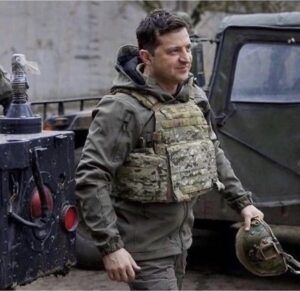 A few personal observations:
Russia caught the world off-guard despite showing all their military cards. They kept the West guessing what they would do, giving the impression they would only invade a few border areas of Ukraine.  Western nation intelligence was wrong, our leaders were wrong, and we made poor decisions.
The people of Ukraine are showing surprising backbone in what is undoubtedly the death of their nation.
NATO, America, the EU, and the UN share the blame for Russia's invasion because their self-confessed weaknesses, indecisiveness, and ongoing political infighting. They all gave Russia conflicting signals on where they stand.  The West isn't taking this war seriously.  The long-term consequences are unknown but will reverberate badly for a long time.
Russian President Vladimir Putin underestimated the nerve of Ukraine to resist. Russia will win, but the cost will be much higher than anticipated, and that cost has nothing to do with the sanctions imposed by the West.
The Russian military has blundered. They unnecessarily destroyed Snake Island, killing 13 border guards.  The Ukrainian guards' response, "go f*** yourself."  There is conflicting information on this action but it shows Russia does not control the narrative.
Russia is losing the propaganda war when its military does stupid things like killing innocent women and children, running over cars with their tanks, etc. and then allowing this information to get out around the world. Word of Russian atrocities is filtering out.  So far, these are uncorroborated.
Ukrainian President Volodymyr Zelensky told U.S. President Joe Biden, "The fight is here; I need ammunition, not a ride." Ouch!  Great leadership by Zelensky in action.  Poor leadership by Biden.
The Ukraine army has put up a good tactical fight by taking unexpected action, destroying key bridges, using surface-to-air missiles and anti-tank guns, defending key access points, and using aggressive tactics. And, now we hear of the "Ghost of Kyiv," a Ukrainian fighter pilot ace (an inspiring but unconfirmed story).
Thousands of ordinary Ukrainian citizens enlist in the Army.
China comes out as an ally of Russia.  This alliance does not bode well for the world.  Turkey comes out on the side of Ukraine.  At least one nation is standing with Ukraine.
"Ukraine will not kneel." A new slogan is gaining traction and fueling anti-Russia sentiment around the world.
"I'm here.  We won't lay down our arms.  We will defend our state." – Ukrainian President Volodymyr Zelensky
Oh, I cannot fail to add this one.  It stands alone.  Many American celebrities, politicians, and "experts" showed us how remarkably foolish they are.  They are characteristically aloof, uncaring, and unserious – all simultaneously.
But, will Ukraine survive the night?1
—————
—————
Please read my new book, "Our Longest Year in Iraq," at Amazon (link here).