[June 14, 2014] The story of Abraham Lincoln has long been told and admired. His humble beginnings and struggles in life, is something that shaped and motivated him. From his birth in a Kentucky log cabin to President of the United States, Lincoln showed us the value of struggle in leadership. It has been a common theme here at theLeaderMaker blog that hardship and struggle makes a stronger, more resilient leader.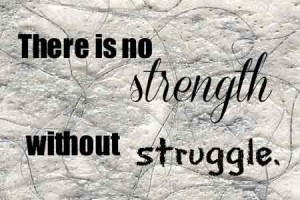 Success achieved without effort or by cheating the system is a shallow victory. It reflects on the person as unworthy and superficial. Many people I meet want something for nothing. As my friends say in disgust, "a trophy for everyone." Yet, the best and most satisfying achievements in life are those gained through personal struggle, persistence, hard work, patience, and failure. This is what makes leaders mentally resilient.
"Strength does not come from winning. Your struggles develop your strengths. When you go through hardships and decide not to surrender, that is strength." – Arnold Schwarzenegger
This is what we admire in those who struggle and are successful. The greater the obstacles, the greater the triumphs. Lincoln lost eight elections, had two failed business ventures, a nervous breakdown, the death of his mother at age 9, and a father who did not encourage him1. He became a lawyer by reading, not by going to law school. His story is inspirational and shows the importance of never giving up and the value of struggle in leadership.
Struggle is what leaders need. If there were no obstacles, then we are crippled. Leaders would not be as strong as required when put to the test. It is the struggle that we value, the adversity and the obstacles put in our way. Without them, leaders are nothing.
Leadership is not a mantle given, but one that is earned through struggle.
[Don't forget to "Like" the Leader Maker at our Facebook Page.]
—————————–
[1] http://www.biography.com/people/abraham-lincoln-9382540#awesm=~oH9HkgE3mDz69K