[February 15, 2022]  Last night, my wife watched a political commentary on her Fire Tablet device.  She yells over to me and says, "You gotta see this."  Two black women, Diamond and Silk, were non-stop yakking it up about freedom and liberty, how our political and legal system is failing, and making us both laugh.  It was just darn fun watching these two ladies hammering our political elites.
How refreshing it was.  I still chuckle to myself as I write this article.  My wife was smiling and said the entire show was uplifting to our spirits – what a great show, entertaining and educational.
Ineitha Lynnette Hardaway and Herneitha Rochelle Hardaway Richardson, known as Diamond and Silk, are American live-stream video bloggers, political activists, celebrities, Newsmax and FrankSpeech.com hosts, whose commentary typically supports former United States President Donald Trump.1  And, much much more.
The two women received media attention during the 2016 campaign and in April 2018 when Facebook notified them they were "unsafe to the community." They publicly complained that Facebook blocked and censored their Facebook page in response.
"We classy, and we sassy, but if you cross us, things may get a little nasty" – Diamond and Silk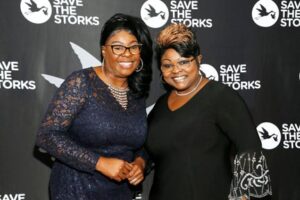 Playing on positive black stereotypes – sprinkled with urban phrases, hilariously bolstering banter, and happy-go-lucky attitudes – they first grab your attention with loud talk and then reel you in by making a whole lot of common sense.  Their logic is undeniable.  I loved it, the whole show; every minute.
Diamond and Silk are pro-Trumpers; they are politically conservative and take gruff from nobody.  If there were a list of those who vote Republican, these two would be at the top of the list.  My wife would be second.  Once diehard Democrats, they changed their registration to Republican to vote for candidate Trump in his first run for President.
You can get a good sense of their out-there style by watching YouTube videos, on Rumble.com (link here), or visiting their website (link here).  Expect to laugh and smile, that is, unless you are a humorless socialist (an ethical bottom dweller that loves victimhood and hate).  If you support BLM or Antifa, their show is probably not for you.  But don't be surprised if you start thinking like them soon after watching Diamond and Silk in action.
Where do they get so much energy?
—————
—————
Please read my new book, "Our Longest Year in Iraq," at Amazon (link here).