[September 5, 2021]  We tend to forget why American and allied forces were in Afghanistan before our inglorious retreat.  Perhaps some do remember the 9/11 event that occurred 20 years ago.  The Taliban were harboring Al-Qaeda, a Sunni Islamic terrorist organization that killed thousands of U.S. citizens on that date.
In today's new 'Woke' culture, we are rewarding the Taliban with billions of dollars worth of equipment.  The list is mind-boggling.  The Taliban now is the best-equipped enemy of freedom globally, thanks to President Joe Biden with the spineless acquiescence of SECDEF Lloyd Austin and Chief of JCS Mark Milley (who should immediately resign in shame).
Renowned historian Victor Davis Hanson has explored this issue on several occasions and has been blunt about the travesty of majestic proportions.  In his September 2 column, Mr. Hanson comments on the rot in the highest levels of our military.  He is also greatly mystified by our indifference to the loss of material.  I addressed the blunder yesterday (see link here and here).
"This is the greatest loss of military equipment in the history of warfare by one power." – Victor Davis Hanson
More and more, it looks like the official position of the Biden Administration is that this all doesn't matter one bit.1  This disaster will haunt us for many decades to come.
For prosperity sake and to have the ability to throw this into the faces of leftists who support the evils that Joe Biden has brought upon us, here is a graphic from the Times (U.K.) that lays it out in stark detail.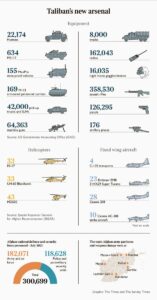 —————