[April 26, 2014] The lady behind me threw-up in her hat and another said she was happy that she had taken Dramamine1. Otherwise it was an uneventful, slightly turbulent flight. It's no secret that I travel frequently and therefore experience the tribulations and rewards of doing so.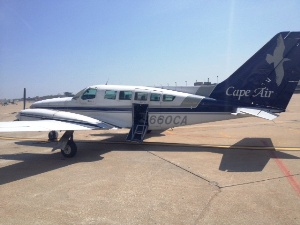 I recently flew for the first time on a small airline called Cape Air. They've been in business now for 25 years and are slowly expanding, usually flying short routes that the big carriers no longer find profitable. Cape Air uses the twin-prop Cessna 402 in the 9-seat configuration. Sitting in the co-pilot's seat (yes, no co-pilot on this flight), I thoroughly enjoyed the excellent view, conversation with the young pilot, and great customer service.
Leadership in small companies can be a hard thing to do, especially in a competitive commercial market. My opinion is that Cape Air is among the best in the small aviation businesses. Compared to the bigger airlines, they show a superior level of customer care, respect, and accommodation of needs. Their flights are usually short at less than an hour and inexpensive.
They are an example of great leadership in a small business and will get my business again in the future. Leadership means caring for customers and adhering strictly to aviation standards – Cape Air2 does this.
[Don't forget to "Like" the Leader Maker at our Facebook Page.]
——————————
[1] An over-the-counter drug for motion sickness. http://dramamine.com/
[2] https://www.capeair.com/s/